Calculate Mean, SD, CV%, and Reference Range for up to 30 data-points.
Data may be entered in any order in the entry field

This earliest Calculator requires 3 boxes be checked to complete internal calculations. (scroll down to watch demo)
1. Click on Image to download.
2. Be sure to 'Save' to your computer before attempting to open file.
3. Open with Adobe Acrobat Reader, and NOT a third party PDF reader.
4. This Interactive Application WILL NOT WORK with other PDF readers.
5. Enter only 'numeric' values.
6. See FAQ's on how to turn off the blue highlighting in Adobe Reader.
This FREE calculator may be shared. Please let me know if you find this SmartLabTool helpful!

SLT_100 Mean & SD Calculator 30dp
This template is FREE. Click HERE or on image to download and save PDF File to your computer. Form must be saved first, then open from computer (desktop) using Adobe Acrobat Reader.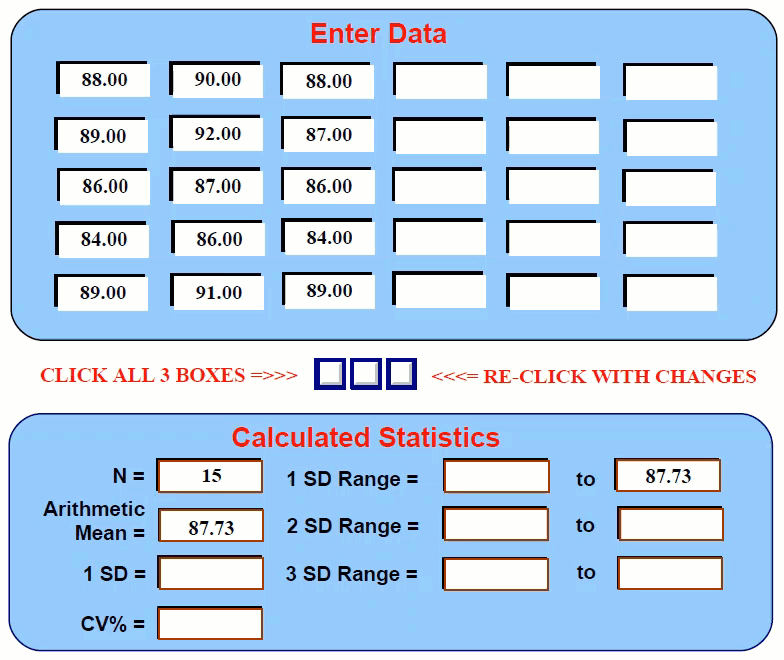 NOTE: The Interactive PDF's on this Website require Adobe Acrobat Reader. SEE FAQ's Tab for information on how to re-set your computer to recognize ADOBE ACROBAT READER as the DEFAULT READER.
The Interactive Calculations will NOT WORK with Windows 10 default reader, or third party Acrobat Readers.
Click on the FAQs TAB for instructions on REMOVING THE BLUE HIGHLIGHTED BACKGROUND.